Xbox One and PC Gamers Can Get An Early Access to FIFA 19 Right Now
Views: 845 Update date:Sep 21,2018
As we know, FIFA 19 will officially hit the market on September 28. Luckily for fans, they can enjoy an early access to playing the EA Sports's newest soccer title on Thursday, a week before the full game is released over various platforms. I am sorry to inform you that only
PC and Xbox
gamers
can enjoy this privilege. Well the next news might cheer PS4 loyalists up.
The Champions Edition
and
The Ultimate Edition
will be available over PS4, Xbox One and PC for fans to play three days earlier.
For PC and Xbox gamers, before enjoying the early playing, there's a few steps you need to complete beforehand.
For PC gamers, to get FIFA 19 early access, they need to have an
Origin Access membership
which costs 4.99 dollar a month. Gamers want to save money can go with an annual membership which costs 29.99 dollars a year and only allows for a ten hour trial for FIFA 19 game.
An Origin Premier membership
gives customers the full FIFA 19 game and it costs higher. For Xbox gamers, they need an
EA Access membership
which costs 4.99 dollars per month to play the game early.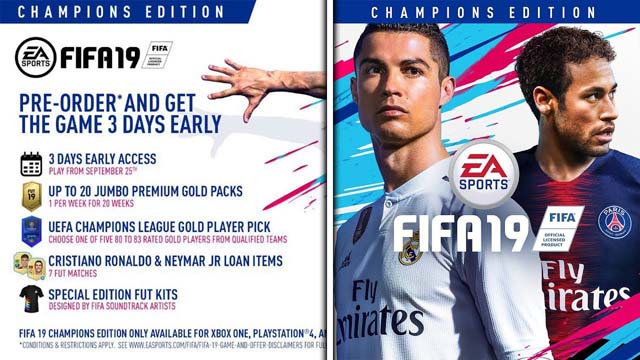 The FIFA 19 Champions Rise trailer
has just released, which gives fans an exciting look at the FIFA 19 before the release of full game.
UEFA Champions League mode
allows fans to build their dream around their favorite superstars who topped the FIFA 19 ratings and experience the greatest club football competition in the world in the form of virtualization. Want to upgrade your squad, buy
Cheap FIFA 19 Coins
at mmofifa.com, we promise a fast, safe delivery.Let's move on to see what's new in FIFA 19 to look out for.
One exciting addition is the above-mentioned Champions League. The trailer also shows us another fresh addition which fans must be excited about. As we know, in the previous career mode, you play the game without music. To be honest, it is kind of boring. Fortunately, things get different in FIFA 19 this time. It seems that there would be a mixed collection of songs by top singers all over the world, including hip-hop singer star Quavo. We
mmofifa.com
is one of the best websites for providing Cheap FIFA 19 Coins. So, during the game, players will either keep excited or chill based on different modes they are playing when playing different aspects of the game, having an authentic experience of European night.
In addition, a brunch of new stadiums in upcoming FIFA 19 will give fans more choices than ever. 17 new La Liga stadiums would be included in FIFA 19. The Bernabeu and Wanda stadiums belonging to Real and Atletico Madrid respectively will also be in the game. Nou Camp and Barcelona won't be featured in FIFA 19 since both of them are still exclusive to PES. The newly promoted Premier League sides also have their playgrounds added with Fulham' s Craven Cottage, Wolves' Molineux Stadium and Cardiff City Stadium. Other new stadiums include Spartak Moscow' s Otkrytie Arena and Borussia Dortmund' s Signal Iduna Park. The above video will specifically show the stadiums that will appear in FIFA 19.
In a world, FIFA 19 has brought plenty of hype this year. There's only a week before the most anticipated game is officially released. Garb your Xbox One or computer right now, sampling the exciting football world.