Which League Should Be In FIFA 19? Still Ample Time For EA Making Changes
Views: 727 Update date:Jul 19,2018
Same time last year, when
FIFA
new franchise was about to release with unpredictable new features, we
Mmofifa.com
made a vote for new league in FIFA 18, whilst one year last we once again welcome the time to make some forecasts upon
FIFA 19
. EA Sports games fans always keen on making predictions, just remove their ardor in TOTW IF card speculation to this realm. Last year, the most expected new league Indian Super League(ISL) failed to add themselves in the roster of
EA Sports
FIFA league roster. That's ridiculous and doomed result, how can a preschool team step in worldie best football online game's league catalog even if they are the most populous country's representative. Absolutely Impossible, neither Chinese Super League(CSL).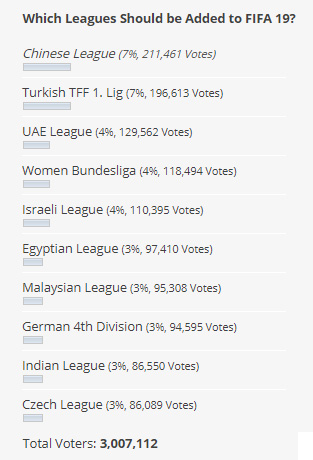 Statistics manifested condition now changed,
Chinese Super League
takes the first position while
Indian Super League
merely joined top 10 most-anticipated league club at 9
th
position, even lower than German 4
th
Division, which is only the lowest tier of league in Germany. Though
CSL
is now positioned at top, but we Mmofifa.com still don't attach too much hope/confidence on this crybaby league.
FIFA 19 developer and publisher should have notice the situation
IRL
that neither CSL nor ISL were well performed during the recent three years, due to the most important and basic reason – insufficiency of football culture in both countries.
Women Bundesliga(Frauen-Bundesliga) is the top level league in Germany that established for women's association football in 1990, now features up to 12 teams
. During 2014-18, FC Bayern Munich and VfL Wolfsburg captured the championship and runners-up successively & respectively. That's a big deal for FIFA 19, cuz the ever proposed women football in FIFA franchise had never been enforced in the real sense. Here is a list of win rate of each team in Frauen-Bundesliga: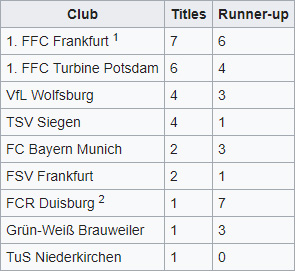 Jointly analyze the aforementioned two diagrams, as will be readily seen,
FFC Frankfurt
&
FFC Turbine Potsdam
are the duopoly winner before 2013, VfL Wolfsburg owned 4 titles and 3 runner-up afterwards.
Votes cannot represent the chance not at all, I don't want to restate last year's vote result. When attach comprehensive factors, the result may be like this: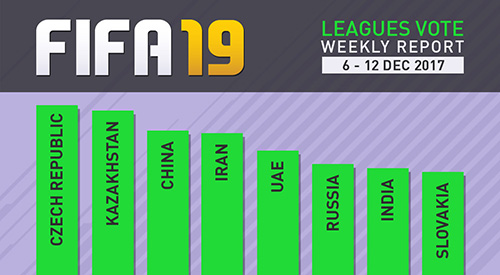 Czech First League
&
Kazakhstan Premier League
dominated the first two position on the chart, but we can't see
German 4
th
Division
here. Don't know whether EA Sports will consider to make those appeal in FIFA 19. Postscript: Xbox One and PS4 are duopoly platforms during past decade, switch joined last year without too much progress, but this year the main impediment cross-platform will be addressed, which allows higher chance for playmaker go all out on the mobile console device.
We Mmofifa.com hope to see more new-born leagues in FIFA 19, so we vote for CSL & ISL this time. EA Sports shouldn't let the game and football become European League playground merely. If you gamers who pre-ordered the game want to make an awesome debut in Ultimate Team, just Buy our
Cheap FIFA 19 Coins
.