FIFA 18 Coins
Madden NFL 18 Coins
FIFA 18 Black Friday Promotion Been Boycotted By Gamers
Views: 70 Update date:Dec 02,2017

Black Friday
promotion is a great festival for consumers and sellers. Followed thanksgiving, every shopping mall will hold huge discount promotion for buyers, now video game operators seizes the opportunity to issue their new in-game purchases for gamers. At first, the promotion are welcomed by gamers cause they can save money and also upgrade their progress of the game. But then, sellers in games find other evil opportunity to make more profits that's unstoppable. Then publish Black Friday special items that can be only purchased on that day, which has extreme efficiency for gamer's gameplay.
That action really harms other non-cash player's legit rights of compete with others. If someone never spend money in the game, he'll never win no matter which tier or leagues they were in. Only those who are great lucky of game master could survive in the imbalance gaming environment. Up to now, more than 38,000 FIFA 18 gamers joint the
boycott
army to resist EA Sports' lucrative
Black Friday promotions
.
If a FIFA 18 Gamer never spend money in the game, how long will he take for earning a Ronaldo in
Ultimate Team
mode? The answer may be a year if you play the game three hours every day! When you get the strongest card, it's about time for you to quit the game. And besides that, all settings and mechanism in the game seems to encourage gamers spending money to relief gamers from the tedious and endless grindy matches. Open packs is a short path, but it may lead to further abyss for gamers, if you don't opened elite players, your meager capital will be clear out from the pack gambling, and you must spend even more money to turn the table.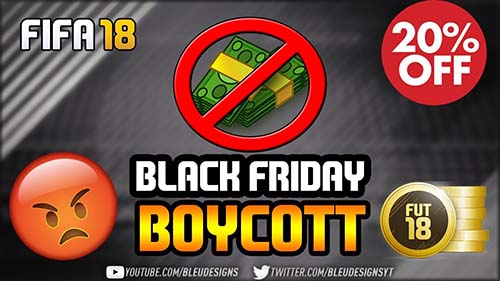 Due to the depression of PES franchise of Konami, EA Sports FIFA 18 is getting more and more monopolistic in football e-Sports video game industry. Gamers are willing to spend money before because they deems that FIFA franchise is a good football video game series, but EA Sport's aggressive strategy irritated gamer's sensitive nerve. Disappointing, EA Sports still not taking this issue seriously, which further frustrate gamer's heart.
FUT Coins on Sale!
I'm not here to persuade you to attend in the boycott lineup.
Will you
Say No To FIFA 18 Irrational Holiday Promotions
? I merely ask you to notice my petition to give us fans of your series what they truly deserve, what they give to yourselves. Loyalty year in and year out. Every year purchasing the latest edition maybe even pre-ordering which personally I did this year also buying packs and being a frenetic player of FIFA franchise.