FIFA 18 Coins
Madden NFL 18 Coins
Cristiano Ronaldo Debut on EA FIFA Cover Firstly in History
Views: 59 Update date:Jun 09,2017
If that is the first time you get contact with the EA FIFA, you may not surprise to the
FIFA 18
cover athlete.
EA official has confirmed that Cristiano Ronaldo will be the cover athlete of their next project FIFA 18
, and they release a picture of the practicality picture. All the evidence indicate together to the true that no one would capture the first position of the 32-year-old Portugal forward.
For the first time to be on the cover of the world's most popular football simulation video game, Ronaldo expresses his exciting and glad of that significant moment. "It is a real pleasure to be on the cover of FIFA 18, It's great feeling and I'm grateful to have been chosen." It seems said to EA Sports. Before Ronaldo, his life-long rival Brazil talent striker Messi has been a regular one to be on the FIFA Series cover, who is the FIFA 12, FIFA 13, FIFA 14, FIFA 15, and FIFA 16 cover athlete for different versions of each generations. Messi has also be on the cover Konami PES series from PES 2009 to PES 2011. After the expiration of Messi's contract with Konami, EA Sports seized the opportunity to sign up with him that lead to today's phenomenon.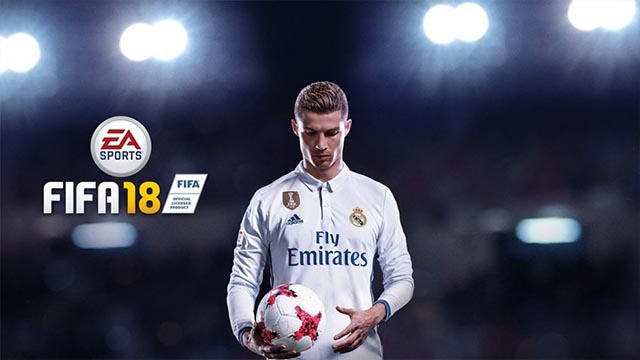 Before this year's contract, actually, Cristiano Ronaldo has been on the cover of PES 2013, PES 2014, PES 2015, PES 2016, and PES 2017 for different versions. There's no specific reason Ronaldo to leave PES and join the FIFA, but money (license fee maybe the major reason).
Now the World's players as well as most promising striker will show up his mien and will last-long leading the cover athlete of FIFA for his versatile competence such as dribbling, passing, long-shot and macroscopic cognition towards situation and so on.
The sought-after FIFA 18 will be released worldwide on 29 September, disobey the former release convention, for PS4, Xbox One, and PC
. Uncertain the Nintendo Switch version's publishing, after all it is the special revised version of FIFA 18 and we still don't know whether its database connect to normal consoles'. But there will be a Switch version undoubtedly.
According to EA Sports CEO Andrew Wilson, FIFA 18 will feature a well improved gameplay with graphics with full confidence towards the Frostbite engine's potential capability. As the second utilizing of the Frostbite engine, developer (EA Sports) will considered more comprehensively and exploit the total potential of that engine that ought sees us newborn techniques and bold trials.
Cristiano Ronaldo through his versatile ability in the front line to be reckoned as (one of) the greatest player ever since. He is the player of the ages. For been on the FIFA cover, Cristiano Ronaldo will become not only the best-paid player, but also the most expensive licensed cover athlete of football simulation video game. The Portugal forward lifted his fourth Champions title last Saturday, who signed a life-long contract with Nike that values 1,000,000,000 USD, to be a real life winner.
Let's waiting for the 29 September's publishing of FIFA 18, during which you can keep following us
Mmofifa.com
professional news and guides. To buy cheap
FIFA 18 Coins
, we are the best choice! Best wishes for you!